Chris Rock is known for his comedy. More recently, Will Smith slapping him at the Oscars 2022 is taking over the news cycle. But what about the comedian's relationships? Chris Rock and his wife, Malaak Compton-Rock, were married for decades, and they divorced in 2016. And their divorce allegedly cost him millions of dollars.
The comedian doesn't talk about his personal life too often, but he was married for about two decades. So, who is Chris Rock's ex-wife, Malaak Compton-Rock?
The Sun reports that Compton-Rock is an author and humanitarian. She has two daughters with Rock, and she also has a third child she adopted from South Africa. As for her work, she wrote a book titled If It Takes a Village, Build One: How I Found Meaning Through a Life of Service 100+ Ways That You Can Too!. She also owns a nonprofit salon called StyleWorks, which provides free services to women leaving welfare and entering the workforce for the first time.
Graziano & Flynn, P.C., reports Rock and Compton-Rock legally separated in 2014, and two years later, they finalized their divorce after 20 years of marriage.
As for why they divorced, The Sun notes Rock talked about how he was unfaithful to his wife through the years, which seemed to play a major part. In a 2018 Netflix special, he said, "When guys cheat, it's like we want something new. But then you know what happens? Your woman finds out and now she's new. She is never the same again. So now you have new, but you had bad news." He then noted he "brought this sh*t on me."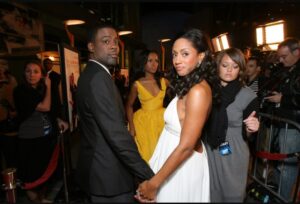 Chris Rock and his wife, Malaak Compton-Rock, didn't have an easy divorce. Graziano & Flynn notes the divorce became even more complicated with their third child. Malaak Compton-Rock argued in court that Ntombi, the adopted child, was part of the family — thus, Rock should have to pay additional child support. Rock stated Ntombi wasn't his daughter, and he shouldn't have to pay.
Page Six notes both Compton-Rock and Rock agreed that their prenup expired. The court filing also noted that Compton-Rock said she deserved enough money from Rock to "commensurate with the marital standard of living." Ultimately, she reportedly wanted a large portion of his $70 million net worth at the time. Exact figures were not given.
The New York Post notes Rock later joked to John Mulaney about how much money he lost during his divorce. Rock told Mulaney that Mulaney should enlist his ex-wife's divorce lawyer for his divorce. "This is how much money I lost in my divorce — I recommended my ex-wife's divorce lawyer," Rock joked while on The Tonight Show With Jimmy Fallon. "I was like, 'You should get this guy — he'll get you your money.' This guy is good because I walked out with nothing. I couldn't even afford the tickets tonight! You think I'm joking, but I did."
While Chris Rock's ex-wife, Malaak Compton-Rock, seemingly received a large chunk of cash from the divorce (according to Rock), Chris Rock's net worth in 2022 is still high. According to Celebrity Net Worth, the comedian reportedly has a net worth of $60 million in 2022. And after Will Smith's Oscars 2022 slap, tickets to his comedy show were selling at extremely high rates.
We sold more tickets to see Chris Rock overnight than we did in the past month combined," TickPick tweeted on March 28, 2022.
After the difficult divorce and the slap, we're sure Rock hopes for easier days ahead.
By: Lauren Weiler In