BREAKING: Rihanna And ASAP Rocky Are NOT Splitting Up As Falsely Claimed!
Barbadian-born music and movie megastar Rihanna's very good buddy and personal Fenty footwear designer, Amina Muaddi, has taken to her Instagram stories to debunk the "sickening rumor" that the singer and soon-to-be baby daddy, rapper ASAP Rocky, had split because of her.
Earlier today, the news broke that Robyn Rihanna Fenty NH, popularly known simply as Rihanna, had found out that Rakim Athelaston Mayers, popularly known as ASAP Rocky, cheated on her with her friend Amina and had called off their relationship.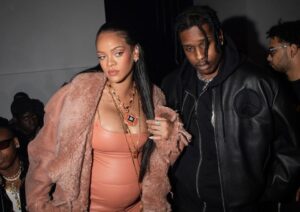 However, according to recent reports, which have been confirmed by the Fenty designer on her Instagram stories, those allegations and rumors are "100% false on both counts, and the couple is fine."
Amina reportedly posted: "I've always believed that an unfounded lie spread on social media doesn't deserve any response or clarification, especially one that is so vile.
I initially assumed that this fake gossip – fabricated with such malicious intent – would not be taken seriously. However, in the last 24h, I've been reminded that we live in a society that is so quick to speak on topics regardless of factual basis and that nothing is off-limits.
Not even during what should be one of the most beautiful and celebrated times in one's life.
I've decided to speak up as this is not only directed towards me, but it is related to people I have a great amount of respect and affection for."
The beautiful designer concluded by adding that: "Rihanna continues to live her serene, best-dressed pregnancy life, and I go back to my business – I wish everyone a beautiful Easter weekend!"
Until Amina released her statement, neither the American rapper, singer, and record producer, nor the world's wealthiest female musician had responded to the rumors to either confirm or deny it.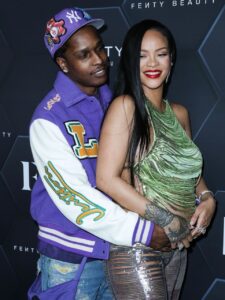 This is a good lesson for everyone worldwide that has witnessed this ugly turn of events today, April 15, 2022. It is not everything people say about you or do to you that you should react to!
It is often best to allow evil nuisances to continue to wallow in their folly and keep receiving themselves with the lies they're fabricating and peddling about you. The day the truth will be revealed to the whole world, guess who will look like and be such a great fool before everyone: the lying meddling idiots!
Rihanna and ASAP are expecting their first child soon, and we wish them the very best and safe delivery for both the mother and child on her day…Amen!