Bitter Points As Man Sexually Defiles 10-year-old in-law And Blames Alcohol In Benue State
Residents of Kanshio in Benue State, Nigeria, were recently outraged, and rightly so too after it was revealed that a man in the area had been sexually defiling his 10-year-old female in-law.
Simply identified as Godwin, the man who does commercial motorbike riding had allegedly slept with the child over three times before she sought help from a local chemist in the area.
According to reports, the poor girl had told the man's wife, her aunt, but was shrugged off by her. While reportedly running an errand, the girl complained to the chemist she went to buy stuff from that she was having severe stomach pain because her aunt's husband had been having sex with her.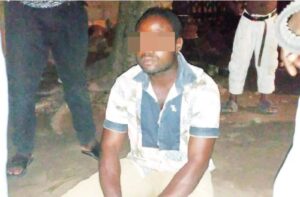 Upon hearing this, the chemist reportedly raised the alarm, and some community youths were mobilized to track down and arrest the man.
Shockingly, Godwin confessed that he indeed had sex with the girl because he was "having issues with his wife and had come home drunk" on the night it happened. He claims to have only slept with her once, but the girl insists that he had forced himself on her three different times.
Godwin has since been handed over to officials of the Benue State National Agency for the Prohibition of Trafficking in Persons (NAPTIP), and the girl was taken to the Benue State University Teaching Hospital for treatment while further investigations into the matter continue.
There is a lot to talk about in this sickening incident, but here are a few points for us to learn from below:
(1) Know And Respect Your Alcohol Limits!
How do people consistently drink alcohol to the point where their brain and reasoning faculties take a leave of absence, and they're left brainless?
You should know what your body's alcohol limits are and respect them anytime you have to drink!
"Drink Responsibly," no, people won't listen. Now, it is so out of hand that innocent children are paying the price for an adult's gross indiscipline. This is so sad!
(2) Don't Be A Coward Who Hides Behind Intoxication!
If you want to be a terrible person in life, at least be one with your full chest!
It is very sickening when adults commit heinous crimes and then resorts to blaming it on the alcohol like this was a Jamie Foxx hit track.
This man claims to have been intoxicated the first night, but what about the other nights? Don't ever be a coward who hides behind such nonsense whenever you're faced with the consequences of your actions!
Let us all do better, and also teach our children that they must always take responsibility for their actions, no matter what it is and what the imminent punishment may be.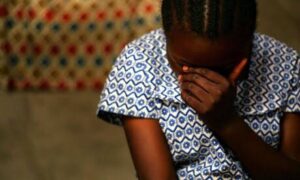 (3) Parents And Guardians Should Please Do Better!
It is an excruciating thing to see or hear when an innocent young child is sexually exploited and defiled by predators like Godwin.
Parents and guardians should please do much better with how they care for their children and wards, especially mothers!
Don't be the type of woman who would be in the same house with your children and wouldn't even have the slightest whiff of what they're passing through!
A child's demeanor instantly changes whenever they're going through a traumatic experience, and it is your duty as a parent to notice and get to the bottom of it as firmly yet lovingly as you possibly can.
This man had been having carnal knowledge of the poor girl in the same house the wife stays with all of them, and she did not notice anything.
As if that wasn't bad enough, the girl actually reportedly told her, but she waved it off and still refused to pay any attention to the child and her husband. She is even more evil than her philandering husband, as far as we're concerned!
If this girl didn't eventually open up to a complete stranger outside, only God knows how long her husband would have "drunkenly" continued to force himself on that poor child.
The situation is so heartbreaking, and we hope that this evil man gets all the punishment he duly deserves for this hideous act.
By: Dr. Sandra C. Duru