Are Your Friends Truly Friends Or Fiends?
There is always a rush of memories in my head, and I get very emotional every time I see this picture again.
A famous hymnal perfectly describes the situation represented in it: "Christian, seek not yet repose. Cast thy dreams of ease away. Thou art in the midst of foes. Watch and pray!" If only Tupac Amaru Shakur had been conversant with or heeded its warning if he knew it, he might still be with us today.
You do remember Tupac Shakur, don't you? Of course, you do. Who could ever forget one of the most influential rappers of all time! Fondly referred to as 2Pac, this image sums up the terrible battles he had to deal with in his life daily until they eventually snuffed out his light in death.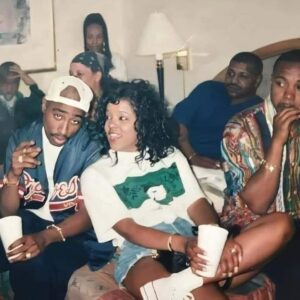 Beside 2Pac in the picture is Ayanna Jackson, the lady who falsely accused him of rape. Behind him is the Haitian who robbed and shot him at Quad Studio in Times Square, New York, USA. Next to him is his manager, Orlando Anderson, who set him up to get killed in September 1996. He seemed to be surrounded by fiends pretending to be friends everywhere he turned.
This is not entirely peculiar to 2Pac alone, though, and I would have you be well aware of this fact. You are constantly surrounded by your enemies 9 times out of 10! The onus is on you to always stay extra vigilant, especially when it looks like you're winning and doing very well in life. Not everyone who hails and sings your praise is your genuine fan! Some are only doing so just to get into your circle so that they can harm you.
Watch and pray always, and don't forget to pay special attention to those who are only happy for you when your progress suits their agenda!
May God continue to protect us from our friends, for we can always take care of our 'known' enemies. Amen!