APC Thug Apprehended After Group Shot Two Persons In Segun Oni's Campaign Convoy In Ekiti State, Nigeria
One of the suspected All Progressives Congress (APC) political thugs who reportedly opened fire on the convoy of Chief Segun Oni, the Social Democratic Party (SDP) governorship candidate in the upcoming June 18, 2022, Ekiti Gubernatorial Elections, was luckily apprehended as he fell off their getaway vehicle.
The ghastly incident, which left two of Chief Oni's supporters with gunshot wounds, happened earlier today, June 11, 2022, as the governorship candidate was at the palace of the Onitaji of Itaji-Ekiti in Ekiti State, Nigeria, for a royal visit to the monarch.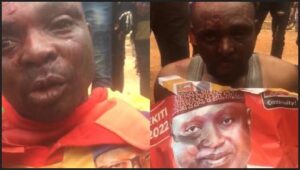 According to reports, the hoodlums attacked Chief Oni's convoy with cutlasses, guns, and all sorts of deadly weapons. However, as fate would have it, one of the attackers, identified as Christopher, fell from their getaway vehicle and was arrested by the crowd immediately.
The culprit, reportedly wearing a campaign T-shirt of the APC candidate, Biodun Oyebanji, identified himself as the Chairman of the National Union of Road Transport Workers, Ise garage, Ado Ekiti, Ekiti State. He also alleged that they were sent to attack Chief Oni's convoy by a popular Ekiti State APC Chieftain, known as Mr. Mentilo.
There is so far no word from the Ekiti State Police Command regarding this unsavory development, and we hope that it won't get swept under the carpet like numerous other such criminal actions involving thugs loyal to the ruling party in Nigeria.
Barely 48 hours earlier, many South-Eastern traders trying to register and obtain their permanent voters cards (PVC) at the popular Alaba International Market and its environs in Lagos State, Nigeria, were also mindlessly attacked by hoodlums suspected to be APC political thugs and several of the traders were wounded in the attack.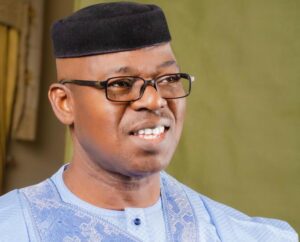 If this is how these blood-thirsty charlatans are hoping to keep themselves in political offices across Nigeria by brute force, we would like to assure every one of them that their plans will fail woefully!
Unless God has created a person HE cannot subdue, then their plans and strategy of terror and intimidation will work. But, if not, the clock is ticking for all of them – both the sponsors of the terror and the mindless beasts they unleash to wreak havoc on their behalf.
For your news, real stories, Let's Connect, and adverts, click on the link below: