A Tale Of Two Wrongs: Rochas Okorocha May Be A Terrible Person But Is This Buhari-Led Government Any Better?
On May 24, 2022, the whole world watched in utter amusement, bewilderment, and pure disgust in some quarters, as the Nigerian Economic and Financial Crimes Commission (EFCC) became a mindless assault dog in the hands of the "powers that be" in Nigeria and tore through the ceiling of Senator Rochas Okorocha's Abuja, Nigeria residence to abduct him forcefully.
After reportedly laying siege to his residence for over 48 hours, their masters or handlers decided to unleash their beasts on the Owelle on the day that he was scheduled to be at the All Progressive Congress's (APC) presidential aspirants screening there in Abuja, ahead of the party's primary elections scheduled for May 29, 2022.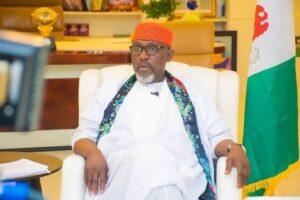 We are already aware of how the Senator refused to accompany the operatives after his legal team found out that they neither had a warrant nor any court order for his attempted arrest and all the crazy drama that ensued following his refusal to be unlawfully whisked away.
However, many people, both in Nigeria and abroad, are not aware that I am not in any way supporting or rooting for Rochas, nor am I biased against him, this administration, or anybody at all for that matter. I believe in the truth wholly and undiluted, and I speak it consistently no matter who or what it stands against, even in the face of seeming death.
I am an Oracle of God, and my assignment here on earth is as unique as the life, potential, and abilities that the Almighty God HIMSELF has given unto me! Many people have asked, commented, and even insinuated that I am supporting Rochas, but this cannot be further from the truth than it is. All I have tried to establish and will continue to do since this irritating mess began a few days ago is the whole truth and nothing more.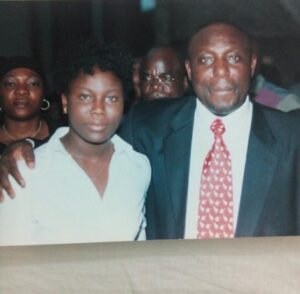 For the benefit of those who may not know, I have had a severe long-standing family, business, and personal feud with Rochas and his entire household for many years now. So, if there's anyone who is supposed to be very happy about his suffering right now, it is me, but I am not made of such inferior grit and personality.
Amarachi Mercy, their mother Nkechi, and her husband Rochas ruined my businesses, tagged me as a blackmailer, and stole from me, but that will not make me support the lawlessness and animalistic actions of the EFCC. THE EFCC OPERATIVES ENDANGERED THE LIVES OF ALL THE PEOPLE IN THAT NEIGHBORHOOD, VIOLATED HIS RIGHTS, AND I WILL NEVER STAND FOR THAT! They were not professional in carrying out their job.
There are countless records of my feud with the Okorochas, and it is even on record how I warned him in 2014 that if he did not repent and make restitution for all his evil deeds and wrongs, God's judgment would fall upon him in the next 7 years. That was on May 24, 2015, and his humiliation and dehumanizing arrest were effected precisely 7 years after that pronouncement on the 24th of May, 2022. Then he laughed it off, but it came to pass.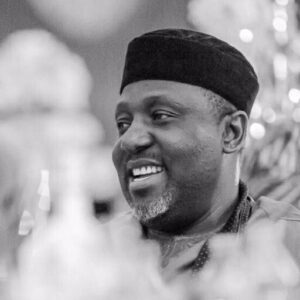 Over the years, I took to social media to warn Rochas and his family about their evil ways and the judgment of God coming for them, but they never heeded my warnings. Another example is this post below that I put out on December 12, 2019, where I said:
"Today the 12/12/2019 marks the beginning of my irreconcilable dispute/differences with Rochas Okorocha, his evil wife, Nkechi Okorocha and his entire family to his tenth generation.
Let's see what happens to my farmland in few hours. I will make three promises to him, he will vomit everything that belongs to me and all the people of Imo State, and still go to jail in not too long a time…start counting.
Secondly, the seven elements making up the planet will consume everything he has acquired on earth including his health, joy, offspring, happiness, and his life will become miserable.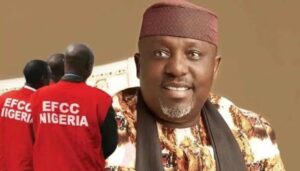 Lastly, the problems that money cannot solve will befall him and his evil wife, Nkechi Okorocha, all his cohorts and his entire family henceforth. God Has heard my uncontrollable cry for 8 years now. This is the first time in my life that I am truly going to fight back against their evilness and wickedness to me and my lovely kids.
Don't ever mistake GOD'S VENGEANCE FOR A NECESSARY WAR OR BATTLE AGAINST THE PEOPLE WHO ARE OUT TO DESTROY AND RUIN HUMANITY…GOD ALMIGHTY GIVES HIS OWN PEOPLE THE STRENGTH, POWERS, WISDOM AND RESOURCES TO CRUSH THEM ALL AND THEY WILL NOT ESCAPE GOD'S PUNISHMENT.
You can't use our money and land to invest on our land yet neglected our pains and want us to patronize your business in our land …our sweat? Don't worry, very soon the same spirits that slapped you will start to patronize every single businesses LINKED to you and your family in Imo State, Nigeria.
Nobody succeeds in bringing out tears from my PRECIOUS EYES and his or her life remains the same whenever I decide to fight back with my body, soul, spirit and my guardian angels go to war…It happens once every 7 years."
Below are links to a few other posts that I have been rolling out about Rochas and his family for many years now:
From there, you can clearly see that if there is anyone who should even be his most relentless enemy, it is I, but by God's mercies, I will never side with or stand by lies and evil because it is being done against someone who is not in good standing with me…NEVER!
Yes, it is undoubtedly true that Rochas Okorocha is a terrible person, but is this Buhari-led regime and junta any better? This is a case of two mighty wrongs coming up against each, and neither can ever be right. The way and manner this government has gone about Rochas' matter and several other Igbo-related cases since they came into power leaves too much to be desired.
It also raises a few questions that we would like to share with you below:
(1) Where was this same "burst-in-through-the-roof" zeal and energy from the same EFCC when the likes of Ganduje, Ibrahim Lamorde, his successor Ibrahim Magu, and many other Northerners have been stealing and stashing away billions and trillions of public funds under this same "integrity" administration?
This sort of selective and vindictive justice is very appalling and is a shame that shouldn't still be heard of in any sane clime at such an advance time as 2022. But then, can we even ever count Nigeria as a clime with any form of sanity at all?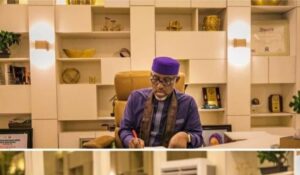 (2) If a man like Rochas, who has Buhari's direct phone number, can be treated this way in Nigeria, should we be happy or celebrate anything?
While I know that many people are delighted that Rochas seems to finally be on the verge of paying for many of the atrocities and evil he has sown over the years, I think it is noteworthy to point out that there is more at play here than just him.
What hope do the commoner and average man have in this country if the supposed movers and shakers of the Nigerian cabals are being treated and unceremoniously broken and bundled away like this?
There are too many things that are fundamentally wrong with this entire system and country called Nigeria. I firmly stand against taking the already deplorable level of impunity and anarchy prevalent in the land to this level displayed by the government and their EFCC minions with the Owelle.
On a final note, too, I would like to counsel everyone that as you laugh with one side of your mouth about Rochas, don't forget to keep praying with the other side simultaneously so that this type of evil day will never visit you and yours…and may God save Nigeria, Amen!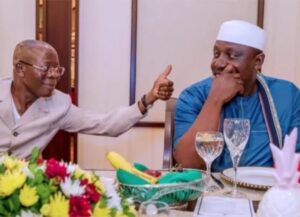 By: Dr. Sandra Duru