A Man's Home Is His Government – Rule It Well!
"And God said, Let us make man in our image, after our likeness: and let them have dominion over the fish of the sea, and over the fowl of the air, and over the cattle, and overall the earth, and over every creeping thing that creepeth upon the earth." – Genesis 1:26.
From the very moment, that man was conceived and formed out of the dust, his purpose and role on earth had always been crystal clear. The man was created and placed here on earth to rule and take charge as God's representative!
In the next chapter after this, we see how the first man, Adam, displayed this dominion and authority completely and maintained the order and balance of things in the Garden of Eden before the fall and subsequent banishment.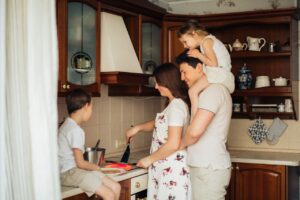 Fast forward to present-day man, and the question rings out virtually all the time; Has God's plan and purpose for man changed? Has HE assigned man another role in the scheme of things, or man still has HIS mandate to rule and have dominion in God's stead here on earth? The answer to this is a resounding "Yes," and it even goes a little further these days.
With the way our present-day society is shaped and run, every home needs a man who knows his place and God-given purpose because the days are indeed evil! For every man who has found his better half – whether the half you saw is the right size or not – there is a Divinely assigned role and responsibility that many men either do not know, ignore or even know and are currently seriously abusing.
The former two would have even been good, but to be found in the class of the latter group is an eyesore, anomaly, and a complete shame on any man involved in such.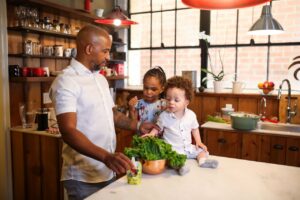 Dear man, your home is your government, and the Almighty God expects you to know and follow and daily dispatch these simple yet tasking roles listed below.
(1) Your home is your government, and you are in charge. Yet, you are not to rule that home like an iron man, but as God's representative!
As a father and husband, you are to exercise complete dominance and authority over your home, but you are never to dominate and enslave anyone, especially your wife! You can have total control over the affairs of your home without becoming an overbearing tyrant, bully, and dictator. This is what God expects of you, and this is what you must accomplish daily.
(2) Your purpose as a man, father, and husband is to show your wife and children who God is! When your children and wife have you in the home, they shouldn't ever lack direction, strength, or spiritual guidance because your duty as the head of that home is as their king and priest.
Knowing that one can only give what he has, though, if you do not have any light in you, how are you now going to lead your home in this evil and dark world we live in today? You must be the light and one that guides your family back to God for everything and in every situation. Anything outside of this is your agenda, and God will have no part in that!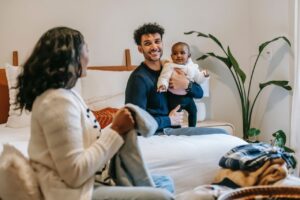 (3) Your understanding of God is shown in all you do in your home to your wife and children. How you treat your wife and children shows how much of God you have in you and what you believe HIS nature is!
If your children and wife look up to you as God's representative in the home, do not let them get God's wrong impression and image by being immoral, abusive, intolerant, headstrong, and unapproachable. Your wife may know better than the children, but what about those innocent ones?
Do not be a misrepresentation of God to your family in the home by doing things that can never be found in God before or to them. You have been given a great responsibility as a man, and it transcends just fending for the family financially. So, you must shape up immediately if you have not been living right with them!
(4) You are supposed to be good every day and every time because that is what God is to us! Don't ever be moody and unapproachable, especially for the children, because that is so far from how God treats us all.
HIS steadfast love never ceases. HIS mercies never come to an end. They are new every morning; hence your love, warmth, and openness to your household must never be found wanting or dwindling. You must be good to them constantly, even as our Father in heaven is to us.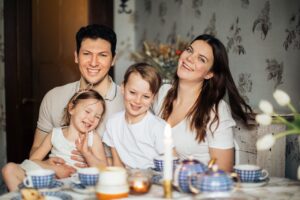 (5) How you empower your wife is what she will become to you. Your wife directly reflects the efforts, love, care, and nurturing that you put into her. If you refuse to invest in her and build her, you will suffer for it when the need to have a deputy arises or when you even pass on to the great beyond.
Invest in your wife and empower her so that she can stand for you sometimes when you're unavailable or even when you're feeling down and not up to certain things in the home. There must never be a vacuum that the enemy can exploit in your home. Hence you must raise and fortify your "help meet" in anticipation of such days and times.
(6) You should never raise your hand on your wife! We put this at the very end of this discussion because it always has and will always be a bewildering concept; how a man can raise his hands on his wife!
Do you not know that there is no difference between you anymore, and whatever you do to her, you do to yourself? Have you ever woken up one day and, because you're so mad at yourself for your shortcomings, you pick yourself up and start slamming your head into the walls or punching your face with your own hands?
The thought of it sounds absurd, right? But, why do you now do it to the woman God has given to you as your companion, daughter, sister, mother, help meet, lover, friend, and so much more? It is said that sin is overlooked in the days of ignorance, but now that you know, it is only honorable for you to cease such madness immediately!
Remember that, yes, God placed you in charge of your home, and it is your government, but not as Hitler's first or even distant cousins, whose only thoughts and actions are always brutish and alarmingly disturbing.
May God help all our men and cause that HIS wisdom and grace continually abide with them…Amen!
By: Dr. Sandra Duru