4 Lessons As Arsenal Guns Down Manchester United's Champions League Hopes In Thrilling Encounter At The Emirates
It took the Mikel Arteta-led Arsenal FC only 2 minutes and 14 seconds to sink their teeth into the visiting Manchester United team and draw first blood as both teams clashed for an assurance of finishing among the top four teams in the Premier League.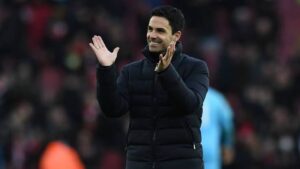 Played at The Gunners' Emirates Stadium on April 23, 2022, both sides were looking to book an automatic qualification into next season's UEFA Champions League (UCL), and Arsenal wasted no time in making their claim to the coveted fourth spot sure.
Bukayo Saka found himself with space in the opposition box after United's defenders Raphael Varane and Alex Telles both inexplicably failed to clear a cross into the area. David De Gea superbly parried Saka's shot on goal, but Arsenal's defender Nuno Tavares pounced on the rebound and fired in the game's first goal.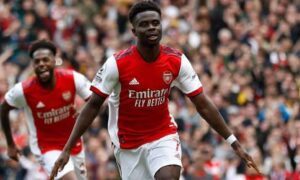 From that point on, everything that could go wrong for the 'Red Devils' kept going wrong in the game. First, United's Diogo Dalot struck a fierce long-range drive that crashed back off the upright in the 25th minute, but a few minutes later, Arsenal grabbed their second goal at the other end in the 32nd minute.
Eddie Nketiah's strike was chalked off for an offside call, but then a penalty was awarded to Arsenal after the VAR spotted an infringement on Saka during the build-up to the disallowed goal. Saka stepped up and fired his team into a 2-goal lead from the penalty spot.
United looked to be instantly fired up into a revival moments later, though, as iconic talisman Cristiano Ronaldo pulled one goal back almost immediately in the 34th minute after Nemanja Matić picked him out with a sweet cross in the box for him to net his 100th Premier League goal finally.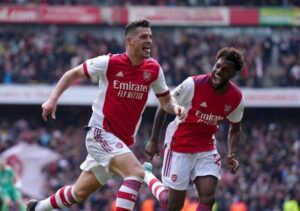 The first half ended with Arsenal in the lead by two goals to one, and it was all to play for in the second half. However, United's terrible luck became even worse in the second 45 minutes as they had a series of chances to level up and even win the game, but nothing worked for them.
The first person to suffer it was the Red Devils' Portuguese maestro Bruno Fernandez who uncharacteristically fired a penalty kick awarded to the team against the left post, leaving the scoreline to Arsenal's advantage in the 55th minute.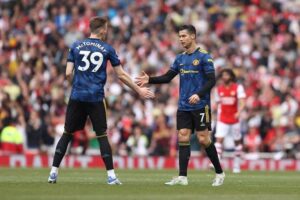 Then The Gunners' goalkeeper Aaron Ramsdale pulled off a couple of outstanding saves from Anthony Elanga and another from Dalot. While they yet wondered why it seemed the gods were so unjust to them, Granit Xhaka unleashed a scorching drive from a distance that flew past De Gea into the goal before the shot-stopper could even finish diving towards it.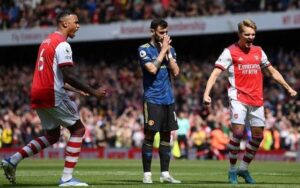 3-1 to Arsenal, and the game was effectively over! This became the first time United has suffered four consecutive losses in the top-flight since 1981. It also made a few things evident to observers, and we think we can also gain from the lessons listed below.
(1) You Truly Need Luck In Football: All of United's efforts on goal would have given them a comfortable victory if any of it had gone into the net.
However, the way things went made it pretty apparent that, just like in every other thing in life, you surely need a little bit of luck on your side to win matches.
(2) CR7 Is Inevitable!: Ronaldo netted his 100th goal in the Premier League, and it was to nobody's surprise that he did.
The iconic striker had left United during his first spell at the club before hitting the 100-goal mark. It was inevitable that the greatest goal-scorer in men's football history would finally join the 100-goal club during this second stint.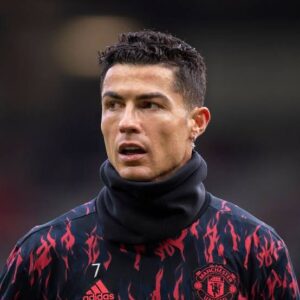 (3) De Gea Has A Conspiracy Against Him In That Defence!: It is seriously starting to look like United's defenders have made up their minds to expose De Gea every time the team plays because the type of errors they make repeatedly is starting to become worrisome!
How Varane and Telles failed to clear the cross for Arsenal's first goal is still quite bewildering, and even the third goal from Xhaka featured some alarming defending.
Whatever the case may be, these defensive woes and other issues need to be sorted swiftly; else, this United team would not even finish this term in any European competition spot.
By: Dr. Sandra C. Duru