4 Big Lessons As Judge Ketanji Brown Jackson Becomes First Black Female Supreme Court Justice In American History!
It is no longer news that on Thursday, April 7, 2022, history was made in the United States of America as the Senate finally confirmed the appointment of Judge Ketanji Brown Jackson as the first Black woman to ever serve as a United States Supreme Court Justice in well over 200 years!
This historic feat was not a walk in the park for President Joe Biden and Judge Ketanji. It took over 97 separate private meetings, 20 hours of questioning, intense sessions of Congressional seatings and deliberations, and 41 days before the Senate finally confirmed her nomination after the President officially announced it!
The Vice President of the United States of America, Kamala Harris, who had taken the gavel in her role as head of the Senate to preside over the vote on Thursday, declared that she was overjoyed at the eventual outcome of the voting process. "I am feeling a deep sense of pride in who we are as a nation, that we just did what we did as it relates to the highest court of our land." she had disclosed to reporters.
Speaking at a special ceremony to commemorate this historic event at the White House, Washington D.C, USA, yesterday, April 8, 2022, Vice President Kamala Harris was visibly pleased as she revealed: "While I presided over the Senate Confirmation vote yesterday, I drafted a little note to my god-daughter, telling her that I felt such a deep sense of pride and joy for what this moment means for our nation and her future.
As I wrote to her, I told her what I knew this would mean for her life and all that she has in terms of potential. The road to our reward and more perfect union is not always straight and smooth, but sometimes it leads to a day like today which reminds us about what is possible when progress is made. It also reminds us that the journey will always be worth it."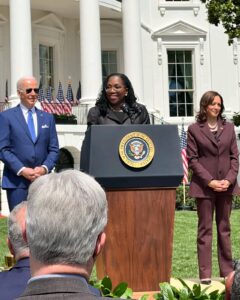 "So, let us not forget that as we celebrate this day, we are also here in great part because of one President Joe Biden, whose vision, leadership, and life-long commitment to building a better America has made this possible. And, we are also here because of the many other key figures in our society whose voice and efforts have helped make this possible today," she concluded.
In his speech, President Biden acknowledged that Kamala was the "first really smart decision" he made in his administration. He then proceeded to say that the events of the day would bring light and encouragement to so many other young women, young minorities, and young Black women across the country. "We're going to look back and see this as a great moment of change in American history," he said.
"During Judge Ketanji's grueling hearing sessions, we all saw the kind of Justice she will be – fair and impartial; thoughtful, careful, precise, calm, in command, and a brilliant legal mind with a deep knowledge of the law. She also has a humility that allows so many Americans to see themselves in her, and this brings a rare combination of expertise and qualifications to the court.
Ketanji brings a new perspective because she has the ability to explain complicated issues and the law in ways that everybody and all people can understand. When I made the commitment to nominate a Black woman to the Supreme Court, I could see this day because I had thought about it for a very long time. It was one of the first decisions I made when I decided to run for the presidency, and I could see it because it is a day of hope, promise, progress, and a day when the moral code of the universe bends a little more toward justice (like former President Barrack used to quote).
I knew it wouldn't be easy, and I knew that the person I nominated would be put through a painful and difficult confirmation process, but I have to tell you, what Judge Ketanji was put through was well beyond that.
It was verbal abuse with anger, constant interruptions, and the most vile baseless assertions and accusations ever! But, in the face of it all, Judge Ketanji showed the incredible character and integrity she possesses. She showed great poise, composure, patience, restraint, perseverance, and even joy in its face!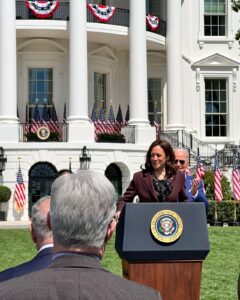 Judge Ketanji, you are the definition of what the Irish refer to as true dignity. You have enormous dignity that communicates to people and is contagious, and this matters a lot. Many women of color who have had to run the gauntlet in their careers have been lifted by just watching you during these past days, and it matters.
You stood for them as well. It's a powerful thing when people can see themselves in others, and that's why I believed so strongly that we needed a court that looks more like America. Not just the Supreme Court, and that's why I'm proud to say that, with the great help of Dick Durban, I'm going to be nominating more Black women judges to Federal Appeal Courts than all previous American presidents combined!" President Biden said.
He also commended Judge Ketanji for finishing her confirmation hearing with the highest level of support from the American people and across the board than any other nomination in recent history. "Soon, Judge Ketanji will join the Supreme Court, and like every Justice, the decisions she makes will impact on lives in America for a lot longer in many cases than a lot of laws we all make. But, the truth is that she's already impacting the lives of so many Americans.
A lot of people in America have met Judge Ketanji and seen their future with so much hope and goodness. People of every generation, race, and background have felt this moment, and they feel a sense of pride, hope, belonging, and believe that the promise of America includes everybody; all of us!"
President Biden again saluted his able Vice President Kamala Harris for the immense role she played in seeing this vision to fruition, stating that she was "invaluable throughout the whole process."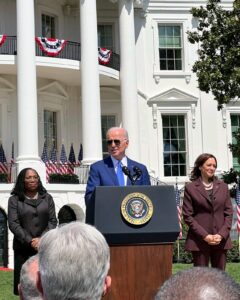 Judge Ketanji Brown Jackson's confirmation fulfills one of the primary campaign promises from President Biden to nominate the first Black woman to the Supreme Court. She became the 116th Supreme Court Justice after the Senate voted 53 to 47 in her favor to confirm her as the first Black woman to serve on the nation's high court.
Before her confirmation vote was passed on Thursday, the Senate Majority Leader Chuck Schumer said: "This is one of the great moments of American history," adding, "Today we are taking a giant, bold and important step on the well-trodden path to fulfilling our country's founding promise. This is a great moment for Judge Ketanji, but it is an even greater moment for America as we rise to a more perfect union."
Her confirmation was supported by all 50 Senate Democrats and the two independents who were in caucus with them. Three Republican Senators who also voted for Judge Ketanji are Utah Senator Mitt Romney, Maine Senator Susan Collins, and Alaska Senator Lisa Murkowski.
Judge Ketanji's experience and trials throughout the Senate Confirmation Hearings are both deeply inspirational and instructional. There are quite a few lessons we picked from her time at the hearings, things that were exposed, and the shocking hostility and uncloaked implicit bias that she had to endure. Here are a few of them below:
(1) Delay Is Not Denial:
Many Republican Senators publicly affirmed that Judge Ketanji was an ideal candidate for the Associate Justice of the American Supreme Court position. However, they still wouldn't bulge and grant their votes and approval.
Over 20 hours of questioning and 97 meetings later, she was eventually confirmed as the historical Supreme Court Justice.
Giving up in the pursuit of your purpose and dreams is never an option for anyone, no matter the delay and obstacles you are facing! Always know that delay is not denial, and in God's due time, everything you're diligently chasing that's meant for you will happen for you eventually.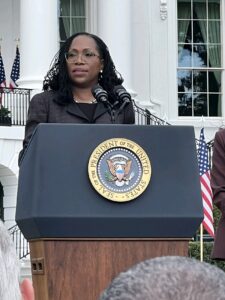 (2) Never Be Intimidated By The Size Or Might Of Your Adversary:
On Monday, April 4, 2022, the Senate Judiciary Committee voted 11-11 along party lines to send Judge Ketanjis nomination to the entire Senate for a vote. Expecting a deadlock, Democrat Senators reportedly took a procedural step to put her up for a vote before the whole Senate.
Judge Ketanji never flinched nor backed down throughout the process of her hearing, and even before the Senate committees, she faced as she continued to press on towards her mark. She did not allow herself to be intimidated by the might and size of the adversaries and detractors standing against her bid to make history as the first Black woman to hold this prestigious office, and now her dream has come true. In nothing, be not terrified of your adversary, and you will surely triumph with God on your side!
(3) Keep Your Eyes On The Prize:
While growing up as a young and ambitious young lady, Judge Ketanji was reportedly discouraged from attending Harvard and becoming an attorney. Today, she is celebrated as the 116th Supreme Court Justice and the first Black woman ever to achieve this remarkable feat.
There will always be many reasons to fall by the wayside in the pursuit of your dreams and goals in life. No matter what or where the discouragements are coming from, though, make sure to keep your eyes on the prize and never let anyone discourage you from pursuing that which you believe in.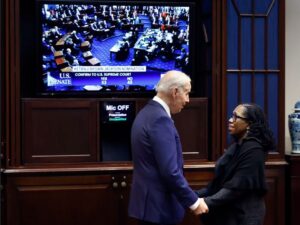 (4) Your Gifts Can Open Doors For Others – Use It Well!:
While speaking during Judge Kentanji's confirmation ceremony at the White House, President Biden promised that he was going to be nominating many more Black women Judges to Federal Courts in America.
We dare to say that his resolve to do this has been further strengthened by how Judge Ketanji has carried herself with remarkable dignity and proven that even the so-called second-class and marginalized people can excel at very high-profile and sensitive positions.
Your gift can open or shut doors for others after you. Please use it well, and never be the reason why someone else like you would be denied an opportunity because of a terrible way you acted or represented yourself, your race, gender, tribe, community, or nation.
Always do your best and leave the rest because you may not know who is watching and following all you're doing.
You may recall that Republican Senators slammed Judge Ketanji as a partisan during her appearance before the Senate Judiciary Committee, focusing on culture war issues rather than questions about her competence.
Several Republicans, including Tennessee's Marsha Blackburn and Missouri's Josh Hawley, have accused the judge of being too lenient with child sexual predators. But, according to fact-checkers, the assertions are false, and Judge Ketanji's sentence judgments were consistent with those of her peers on the federal bench.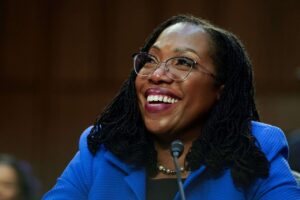 Judge Ketanji, 51, worked as a federal trial court judge for eight years until being confirmed to the United States Court of Appeals for the District of Columbia in June 2021. She served as a public defender before becoming a judge, and she will be the first Supreme Court justice to represent impoverished criminal defendants since Thurgood Marshall.
She went on to clerk for Justice Stephen Breyer after graduating from Harvard Law School in 1996, and she will succeed him on the Supreme Court when he retires this summer. Justice Breyer, now 83, was nominated to the Supreme Court in 1994 by then-President Bill Clinton to replace retiring Justice Harry Blackmun.
By: Dr. Sandra C. Duru