3 Things Chelsea Must Do In Spain To Overturn Heavy Real Madrid 1st Leg Champions League Defeat.
Former Chelsea boss Carlo Ancelotti returned to Stamford Bridge, England, in the opposing dugout for a UEFA Champions League fixture earlier this week, and boy did he tear the Bridge down!
Carlo's Real Madrid CF side walloped Chelsea FC by 3 goals to 1 in the 1st leg of their Quarter-Final encounter, and they've left the current defending champions with a huge mountain to climb if they seek to remain and progress to the next stage of the competition.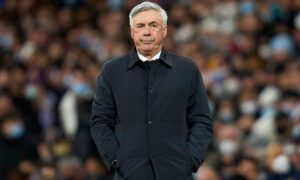 Real's team, which boasted of a perfect blend of youth, seasoned veterans, and raw, exciting skills, lit up the Blues' home arena and practically left them for dead right from the first half of the match. French International Karim Benzema retook center stage in this round of fixtures and bagged consecutive Champions League hat-tricks for the first time in his career.
However, the heavy home defeat in this fixture does not necessarily mean that Chelsea is done for. The UEFA Champions League is renowned for serving up fantastic comebacks. The London club too has a chance to write their name in the competition's history of valiant recoveries when they travel to Spain for the 2nd leg encounter next week.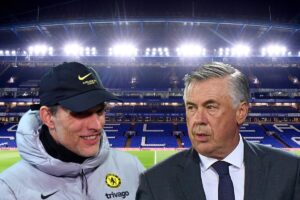 If they are to be able to accomplish this feat, though, there are a few things the club must tidy up before the match scheduled for Tuesday, April 12, 2022, at the Estadio Santiago Bernabeu, Madrid, Spain. Here they are below.
Chelsea Must Sort Out Their Defensive Issues!:
Speaking to the media after the match, Chelsea's manager Thomas Tuchel was apparently livid about his team's performance and all but threw in the towel when he admitted that he doesn't believe his side is still in the tie. When asked if he thought they could still qualify, Tuchel said: "No, not at the moment. No. We have to find our level back. I don't know where it is since the international break. The first half is a repetition of the second half against Brentford in a quarter-final against Real Madrid. So far off our level in absolutely everything the game demands, we can't expect a result from this kind of performance."
"We have to get things ready for Saturday. Not think about the Bernabeu today. Saturday, we face Southampton, and if we continue to play like this, we will not get a point. It is a heavy loss. It was one of the worst first halves that I saw from us here at Stamford Bridge. Individually and as a team, it was by far not enough. It was far from our standards, and then you lose games.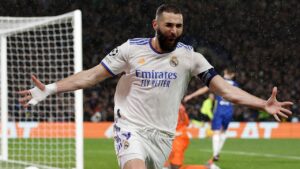 No, we don't have to go to Madrid. We have to go to Southampton, and it is vital to process this. We must go to Southampton. If we keep playing like this, we will lose at Southampton, and then we will get hammered at Bernabeu," he added.
Guess their coach has said it all then. Before Wednesday's match against Madrid, Chelsea had never conceded more than two goals in a Champions League match and conceded only 7 goals from open play in their last 15 games, with 10 clean sheets.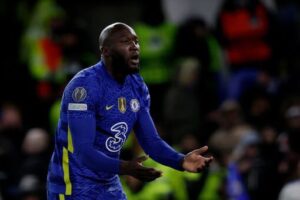 They will surely have to find this form again if they hope to overturn this deficit and make it to the next round.
Chelsea Must Find A Way To Nullify Madrid's "Old Guard":
Talk about aging like fine wine; Real Madrid's aging and vastly experienced players were the difference on the night as they ran riot over Chelsea in London.
Karim Benzema scored a hat-trick on the night – his first consecutive career hat-tricks in the Champions League, while teammates Luka Modric, David Alaba, and Toni Kross were beyond majestic in the heart of the defense and midfield.
If Chelsea indeed harbors any hopes of coming away from Madrid with a resounding victory and qualification for the next round, they must find a way to ensure that these experienced men do not have the kind of joy they had as they orchestrated and pulled strings all through the 1st leg encounter.
The space afforded a player of Modric's pedigree to whip in that delightfully sumptuous ball for Benzema's second goal of the night is nothing short of criminal, especially for a team that boasts of the likes of Jorghinho, Ngol'o Kante, and Mateo Kovacic in their midfield. They certainly need to do much better.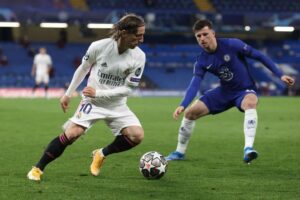 Chelsea Must Find A Way To "Unlock" Romelu Lukaku AndTimo Werner Again:
After a good start when he returned to one of his former Premier League clubs during the last summer transfer window, Belgian striker Romelu Lukaku has been pretty much off the pace this season.
This is evidenced by the fact that he has been dropped to the bench and is not so high up the pecking order for the coach anymore. It was also quite clear in his display during the match after he came on in the 64th minute of the game and missed a glorious chance to pull one goal back in the 69th minute.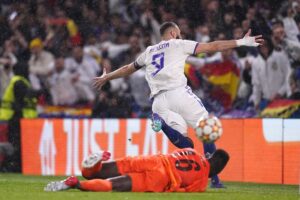 If Chelsea is to find a way back in this tie, they cannot afford to have their central striker missing great scoring chances like that, so they must find a way to get him and strike partner Timo Werner firing on all cylinders again.
If they can achieve these three things listed above, we firmly believe that they should be able to get a good result from their upcoming 2nd leg encounter in Spain. Well, that is their goalkeeper, Édouard Mendy, doesn't decide to pass the ball to Real Madrid's star man, Benzema, for an easy tap-in again, though.
Do you think The Blues have what it takes to make history by overturning this deficit in Spain and advancing to the next round of the competition? Share your thoughts with us in the comments section, please.