2 Key Lessons And Points As England's 56-Year Drought Ends With Lionesses' EURO Women's Championship Triumph
The British national female football team, The Lionesses, ended the country's long major trophy drought in national team football competitions as they secured a first Women's European Championship title by defeating 8-time champions Germany by 2 goals to 1 at the iconic Wembley Stadium, England.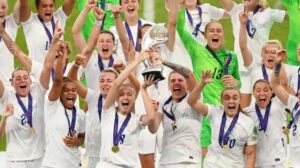 On July 31, 2022, exactly 56 years and one day since the World Cup victory also on home soil in 1966, the Lionesses' victory threw the whole nation into ecstatic jubilations. Still, it was not an easy triumph for them by any means!
It took Chloe Kelly's first-ever international goal in extra time to secure the title for England after both teams had battled out to a scored draw during regulation time.
Both sides canceled each other's lethal strike forces pretty decently during the first half, with neither finding a way past their goalkeepers at both ends.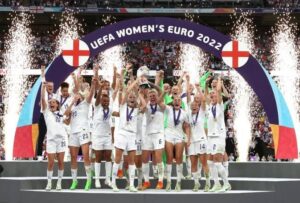 The game changers for both teams were to come off the bench in the second half, though, as each coach made inspired substitutions that sparked the game to live goals-wise. Germany also stepped up the pace heavily at the start of the second half, but England drew first blood.
England's Manager, Sarina Wiegman, had thrown Manchester United Women's in-form striker, Ella Toone, on in the 56th minute, and barely 6 minutes later, the striker found the back of the net with a delightfully lobbed finish over the onrushing German goalie to give England the lead.
However, 17 minutes was all it took for Die Nationalelf to claw back an equalizer, with one of their own substitutes, Tabea Wassmuth sending a lovely cross into the box for Lina Magull to head home at the near post.
Both teams fought out the remaining minutes in regulation time bravely, but there would be no winner, and extra time was needed to settle the encounter.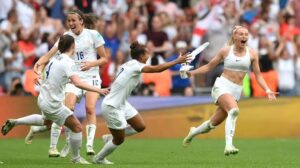 Chloe Kelly popped up to steer the ball home for England in the 110th minute, and this time the Lionesses refused to bulge and ended Die Nationalelf's remarkable run and dominance in the European Women's Championship.
As always, there are a few key lessons we learned before and during the beautiful encounter between these two champions, and here are two of them below:
(1) Delay is not denial!
It took 56 years, but the dream of another major football title has finally come true for England. This proves that delay is not denial, and if you persist, you will achieve that long-elusive goal, too, one day!
No matter how long you've been waiting or how many times you've tried and fallen short, don't ever give up on your dream and purpose in life.
If you believe in yourself enough to keep pushing, one day, creation will smile on you, too, and you will be celebrated. Nothing is impossible to accomplish for those who refuse to relent and back down against any odds or obstacle.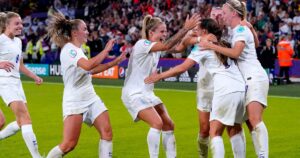 (2) You are not fighting against your opponent's records or accomplishments, so take your eyes and mind off them!
Many people lose a lot of battles in life because they allow themselves to focus on the wrong things and get themselves messed up mentally before the fight even starts.
If David had allowed himself to be awed by the sheer size of Goliath and all the stories of all the champions he had slain and fed to the birds when he came up against him, he would have ended up as bird food that fateful day, too!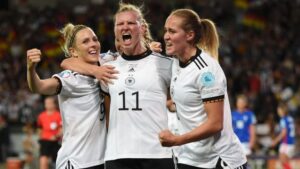 Germany's female team had a very formidable record and reputation coming into the competition. The 8-time winners had never lost a final in the female European Championship, having won all 8 of their previous appearances before England.
Ordinarily, that's enough to demoralize any weak-minded opponent, knowing that your foe has never lost in many previous finals. However, the Lionesses lived true to their name and did not bow or retreat before the challenge. They kept their eyes on the prize, and today we're all celebrating them as worthy champions.
Learn a big lesson from their triumph today, and imbibe the same mentality in whatever challenge you're battling. No mountain is insurmountable as long as you don't allow yourself to be intimidated and fazed by its size!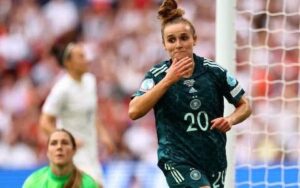 Take your eyes and minds off your opponent's records and past achievements because your battle or contest against them is in today, not the past!
Do this consistently, and you will triumph in all your battles and struggles.
For your news, real stories, Let's Connect, and adverts, click on the link below:
https://mgbeke.media/advertise-with-us/
Do you want to support our charity work? Click on the link below: 
For your Natural Skincare Products & Supplements, click on the link below: