2 Good Lessons As NDLEA Marks Abba Kyari's Shopping Plaza, Houses In Maiduguri For Investigation
A total of 6 residential buildings and a shopping plaza allegedly owned by the embattled, suspended Nigerian Deputy Commissioner of Police and Intelligence Response Team (IRT) leader, Abba Kyari, have been reportedly marked for investigation and possible seizure by the National Drug Law Enforcement Agency (NDLEA).
This development comes not even up to 48 hours after NDLEA operatives apprehended a suspected drug baron in Lagos linked to the N3 billion worth of tramadol intercepted by the then Kyari-led IRT team.
According to reports, the 6 residential buildings are within the Maiduguri New Government Residential Area in Maiduguri, Borno State, Nigeria, while the 2-storey shopping plaza named "Assurance Plaza," which reportedly has about 100 stores, is located along the Giwa Barracks Road in Maiduguri, Borno State.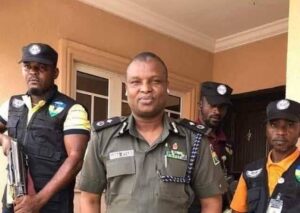 (1) Those That Gather Money Illicitly Never End Well: According to the good book: "Wealth gotten by vanity shall be diminished: but he that gathereth by labor shall increase." – Proverbs ‭13:11‬.
There is no security in money and wealth that is gathered illegally and in dubious ways because the end of it is never well with those who do them!
All the money and properties that Kyari had amassed in his "glory days" are all up for possible seizure, and this may only be the beginning of it. Learn to be content with whatever little you have. Trust God to give you increase in HIS time, and HE will surely bless the works of your hands.
(2) One Day Will Forever Be For The Owner!: Our people say that every day is for the thief, but one day is for the owner.
This has played out very well in Kyari's story, and we hope that many young people, and even the elderly ones, will observe and learn from it well.
There is nothing that we do in this life without recompense, for whatever we sow, we shall surely reap! Let us desist from acts that are not honorable and credible because a day will come that all you think will save you will surely fail you. Then you will be left alone to face your judgment.
Be wise and save yourself now by desisting from anything shady, evil, immoral, and unethical that you're involved in before it is too late!