2 Big Lessons From Italy's Shock World Cup Qualifiers Defeat By North Macedonia
North Macedonia left it pretty late in the 92nd minute before netting the goal that will go down in football history as the fatal blow that ended Italy's Qatar 2022 World Cup appearance dreams.
The reigning champions of Europe shockingly lost the match right in their backyard in a classic David vs. Goliath encounter. Played at the Stadio Renzo Barbera in Palermo, Italy, the Azzurri's did all they could but couldn't find a way past the resolute North Macedonian defense.
An opening in the 92nd minute produced a moment of wild ecstasy and jubilation for the Macedonians but a nightmarish agony for all Italians on the night.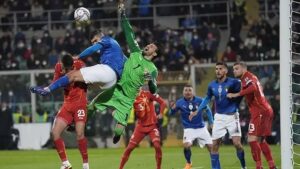 This monumental victory for the overwhelming underdogs that eventually subdued their supposed masters is exceptionally inspiring in more ways than one. Here are a few things we learned from their historic feat.
(1) Titles Do Not Guarantee Entitlements!
In the grueling race of life, the titles you hold do not guarantee that everyone and everything you come against will automatically bow and submit to you.
Titles don't bring entitlements because a title is useless without attending and corresponding consistent efforts to maintain it.
Whether the Azzurri's got complacent and felt that the North Macedonian team would roll over and allow them to move on to the Play-Offs final, we cannot tell. But, one thing we know for sure right now is that their European Champions title counted for nothing on this occasion as they got served, big time!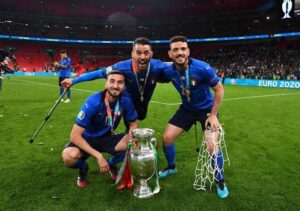 (2) The Only Great Odds Stacked Against You Is You!
You may need to read that subheading, again and again, a few more times if it doesn't sink in immediately. The only obstacle you will ever have stacked against you in any of your life's pursuits is you!
Those dogged and relentless in their faith are habitual achievers, while those who choose to wallow in self-pity and doubt will remain perennial underachievers for life. Once a person believes in something and gives himself to it entirely, there is almost nothing he cannot achieve with it.
North Macedonia showed the Italians no fear and unnecessary respect. All they wanted was the World Cup ticket, and it didn't matter if the obstacle before them was a reigning European champion or just another bunch of local players.
The Italian Azzurri's had 32 goal attempts against North Macedonia's 4. None of their 32 attempts could find its way into the North Macedonian net.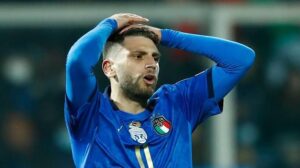 (3) Finish The Project In Front Of You First Before You Start Focusing On Another:
A bird in the hand – as the saying has been remixed on the streets of Lagos, Nigeria – is the only bird! Any other ones you see in the bush are just distractions. In other words, the project you have at hand is the only project. Face it and finish it well, and then you may start thinking about or looking at alternatives.
One of Azzurri's greatest undoings during this World Cup playoff was the potential mouth-watering clash with the Portuguese team in the final. Such a match would have been an absolute delight to watch for neutrals, of course, but the Azzurri's focused on it way too early and lost sight of what was in front of them.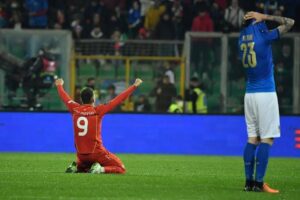 Don't ever take your eyes off a present danger just because you are anticipating or trying to prepare for an imminent one! You can only live to fight another day if you survive that current battle, so stay focused and forget about tomorrow's impending wars. "Sufficient for the morrow are the evils therein," remember?