2 Big Lessons As Real Madrid All But Seals La Liga Title With Dramatic Victory Against Sevilla
European and Spanish club football giants Real Madrid CF took a firm step towards reclaiming the La Liga title from city rivals Atletico Madrid with a thrilling comeback victory over Sevilla at the Estadio Ramon Sanchez Pizjuan last night, April 17, 2022.
'Los Blancos' had the worst possible start to the match ever, as two inexplicable defensive howlers ensured a quickfire double for their hosts to run off into a two-goal advantage as early as the 25th minute, with goals from Ivan Rakitic and Erik Lamela.
With Sevilla having just recently put four goals past the last visitors (Granada CF) to the Sanchez Pizjuan, Madrid was indeed up against it on the night, and the last thing they needed was to be in the kind of defensive shambles they displayed almost all through the first half of the match.
The halftime whistle couldn't have come anytime sooner for Carlo Ancelotti and his men, as the boisterous atmosphere created by the home fans seemed to be swallowing them up alive.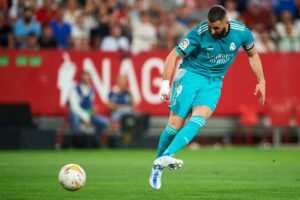 As could be predicted, though, Los Blancos came out with a renewed zest and fire in the second half to set up arguably one of the most exciting halves of football in any league across Europe this season!
The introduction of Brazilian winger Rodrygo in the 46th minute paid instant dividends as he pulled a goal back with a sublime finish from a Dani Carvajal square ball in the 50th minute. Game on, Madrid!
From that moment, the tide swung the way of the Madrid team. Still, when Vinicius Junior's perfectly taken goal was wrongly disallowed for handball in the 76th minute, many thought it would be an unlucky day for Madrid.
It was far from over for them, though, as another substitute, Nacho Fernandez, combined beautifully well with Carvajal again down the right flank and smashed home Madrid's equalizer with his first touch after just one minute coming into the game.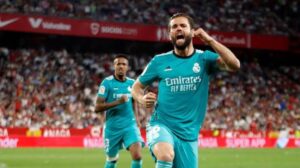 The afore-rocking Ramon Sanchez Pizjuan was now shell shocked, but the worst was yet to come for them, unfortunately. Rodrygo cut through the Sevilla defense down the right flank again and found Karim Benzema with a lovely square ball on the edge of the 6-yard box.
Given way too much time to control the ball and take another touch on it, Benzema rifled a low drive into the goal post past Bono and two other defenders on the line, and Madrid stole all three points in the 92nd minute with that third and winning goal from the prolific Frenchman.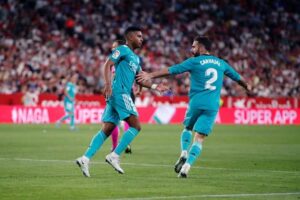 If any match has undoubtedly lived up to its pre-match hype, this one certainly did, and here are two important lessons from the exciting encounter.
(1) You Can Make Your Luck By Being Relentless!: Even when it had looked like the entire day, fans, game, and even match officials were against the Los Blancos, they never allowed their heads and morale to drop for one second, especially in the second half!
After a dreadful defensive display in the last half, Madrid showed that your luck could be made sometimes when you refuse to bulge and concede defeat in life!
They kept going at Sevilla, refused to settle for anything less than a victory, and "luck" virtually had no choice but to smile at them eventually. Pursue your passions and goals relentlessly, too, and the universe will yield positive results for you if you refuse to give up.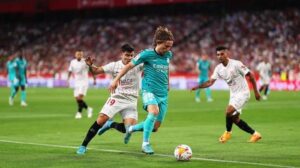 (2) Impossible Does Not Exist: Before this game, Sevilla had not lost at home this season, and they also boasted the best defensive record in the entire Spanish football league.
If that didn't look daunting enough, the Andalusian hosts were also in excellent form, both home and away, having lost only one match away to Barcelona in their last 10 games. When you now include the fact that Madrid even went two goals down at the start of this match, everything just felt like an "impossible" mountain to climb for them.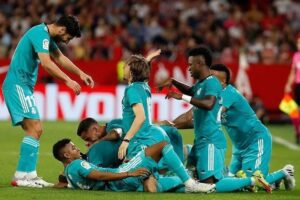 Well, we all saw how that turned out eventually, thanks to Madrid's doggedness and never-say-never attitude to their craft, didn't we? Learn a vital lesson from this today. That project, goal, dream, and desire you think is impossible is only so because you view it as such!
Impossible is nothing to a mind that sees it as "I'm possible" instead of the negative it connotes together. The ball, as the saying goes, is firmly in your court. God bless you always; Amen.
By: Dr. Sandra C. Duru