A famous saying goes: "Show me your friend, and I will tell you the kind of person you are." Our associations, to a long extent, define a lot about us.
We are most likely to become what we spend a lot of time with and around, so it is our responsibility to make sure we do not get mixed with the wrong crowd.
Another note-worthy truth here, though, is that the "wrong crowd" can be a relative thing most times, depending on different situations and circumstances. A group of hippie, fun-loving disc-jockeys could be the "wrong crowd" for a young person being groomed to be a devout religious leader, but certainly not for one who is musically and entertainment inclined.
There are, however, a set of people that one needs to avoid getting mixed with in life, no matter your societal, religious, financial, educational, mental, or physical inclination. Yes, such people are like parasites that destroy even the host that houses them because all their nature knows is negativity.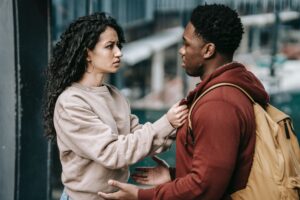 Securing and maintaining your mental health is your primary responsibility, not anyone else's. Hence, to keep your space healthy and free of avoidable troubles, here are 10 types of people you should avoid to have peace in life:
(1) Someone That Always Picks A Fight With You For Not Taking Their Advice – One of my favorite slogans from Will Smith and Martin Lawrence's Bad Boys movie goes: "We ride together. We die together. Bad Boys for life!" I especially love this saying because it depicts the nature of true friendship.
The only person who should get upset with you for not following their advice is God, and even HE gives you your free will. Any person, friend, relative, or whatever they may be that always gets mad at you for not taking their counsel should be kept at arm's length. It is even worse when such people now see you in trouble because you followed your heart and refuse to lift a limb to rescue you from such a crisis.
A true friend never forsakes you even in the error of your stubborn ways! If we were all judged thus for our mistakes in life, who would remain amongst us? None, I guarantee you. Be wary of such people around your space.
(2) Someone That Likes To Guilt-Trip You For Standing Up For Yourself – Nothing is ever always rosy in life. There must be good and bad times, like sweet and sour times. Never allow anyone in your space that likes to make you feel bad or guilty because you stood up for yourself and dared to better your life.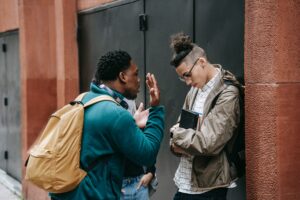 Many people like to do this, especially when they do not support your move. Mark such people and make a note to stay clear of them. No matter what you encounter on your path to self-fulfillment, your loved ones and friends should support and be there for you, and not rail at and try to drag you down!
(3) Someone That Always Feels Comfortable To Gossip About Others To You Or Around You – There is a simple rule to this: "What goes around comes around." If you tolerate and entertain gossip around you, be sure that they are doing the same thing about you when you're not there as well.
Tale-bearers and gossips are like cankerworms; they destroy anything they lay hold of. Keeping or tolerating them around you is like finding an utterly wild animal on the road and taking it home as a pet because it's wounded. You will be dinner one day.
(4) Someone That Is Never There For You When Things Get Rough – Sadly, we all have these types of people around us. They are never around to support us when things are tough but are the first to show up whenever you're winning in life.
You need to be firm and even brutal, if need be, in your stand against such people. Cut them off completely! A person who always tries to dump you when trouble shows is not worthy of dining with you when the tide settles. Be wise!
(5) Someone That Takes More Of Your Peace Than They Give – There are some types of people that rarely have anything positive to say or contribute to anything you're doing in life. They are always the first to discourage and point out why you can never achieve your dreams.
If you find out that someone always has more troubles than solutions, it will be wise to avoid such people. Life is hard enough on its own as it is. Why add such a burden to it again?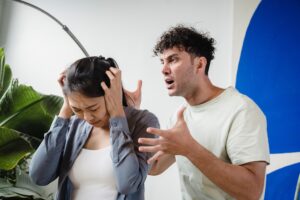 (6) Someone Who Is Always Right And Can Never Be Corrected – No one is an island. We all need each other to grow and develop through life's different phases and stages. Some people, however, are fond of never listening to anyone else even when they are obviously in the wrong.
When you notice a person around you who is never open to suggestions, never accepts they're wrong, and is always set in their ways, be quick to cut off from such. No human being can know it all. Anyone who refuses to accept this fact is delusional and will do more harm than any good they can ever offer in the long run.
(7) Someone That Makes You Doubt Their Place And Value In Your Life – Do not be deceived. Nobody ever leaves you the way they met you. Any association you make either leaves you better or worse than you were before coming into them.
Be wary of people that make you wonder why you even know them because they offer virtually nothing positive to you. Whether physically, mentally, emotionally, spiritually, financially, and in other ways, you should always have positive contributions in these areas from people you keep around you in life.
(8) Someone That Makes It Clear That You Don't Need Them – Don't ever force or beg anyone to be there for you or to be in your life. If, for any reason, someone in your life repeatedly shows you that they don't want to be there for you, severe ties and move on immediately. You are far too valuable to be treated as an unwanted option!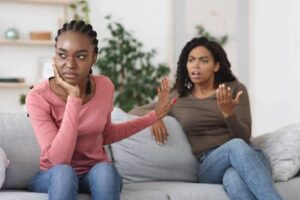 (9) Someone That Has Nothing They Believe In And Can Die For – When a person has no cause or conviction they stand for, they will fall for anything dangled before them. Such people are incapable of true loyalty because they can easily be bought and weaponized against you.
To such, "It's just business. Nothing personal." This is the slogan of traitors who can sell their very souls for a morsel of a meal. Always stay as far away from such people as you possibly can.
(10) Ungrateful People That Always Talks Down On Your Sacrifices For Them – Another set of people you must be wary of are those who consistently make your efforts and sacrifices for them look insignificant no matter what you do or give.
They have no bone of gratitude in them and would instead make you feel worthless than appreciate your efforts. Never allow anyone to demean you or treat you like you are worthless. Be on your guard against such people too, and do not hesitate to cut away from them.
In conclusion, as much as we've tried to identify this set of people you should avoid, there is also one essential thing we must mention. You must also not be any of these types of people we listed here to the people around you.
The golden rule says: "Do unto others as you would have them do unto you." So, make sure that you are what you want others to be to you at all times too. If we all abide by this, what a blissful world we would all live in and enjoy!