It is a public knowledge that most self titled billionaires in Nigeria are dishonorable men with questionable characters whose wealth were gotten through fraudulent means.
These calibres of men are the greatest tormentors of the weak populace. With their ill gotten wealth, they threaten, humiliate, abuse, intimidate, harass, and bully anyone or people who refuse(s) to dance to their tunes. Ned Nwoko aka audio billionaire cum Oppressor of the weak and the poor is among these calibres of men. He claims to be a legal practitioner but an ordinary law clerk who is an ex-convict! I wonder why men like him are still revered in our society? Well, anything can happen in Nigeria – a country where men whose dirty linens are obvious are conferred with chieftaincy titles, eat and dine with top security and law enforcement officers and even contest and win elections to rule over innocent masses. HOW CAN NIGERIA be better? Read this to know more about Ned Nwoko and his atrocities:
https://www.casemine.com/judgement/uk/5b46f20c2c94e0775e7f155b
https://www.vanguardngr.com/2021/02/ned-nwokos-assassination-story-a-hoax-the-truth-of-the-matter/
http://saharareporters.com/2021/05/16/ned-nwoko-using-malami-others-illegally-jail-my-dad-years-opposing-his-land-grabbing
http://saharareporters.com/2021/05/16/sowore-others-blast-ned-nwoko-using-affluence-illegally-jail-kinsman-over-land-grabbin
https://www.lindaikejisblog.com/2021/5/ned-nwoko-trends-as-former-beauty-queen-accuses-him-of-putting-her-father-in-jail-because-their-community-resisted-his-land-grabbing-attempt.html
https://m.facebook.com/story.php?story_fbid=6178609065490460&id=100000242825077
Ned Nwoko touched the tiger's tail when he publicly called Dr. Sandra C Duru, the CEO of Sanchhy Nigeria Limited, Zest Entertainment & Media Ltd, Excellence Cables and Electronics LLC, Mgbeke LLC and TUFFINC – a woman who has over the years contributed to her country's development and has a licit business registered in the US and in Nigeria – an ex-convict, a very defamatory, damaging and false accusation circulated on social media by his paid mongers, written by one of his overzealous media aides who acknowledged in his correspondences with Dr. Duru that he was directed to do so by Ned Nwoko and he has to be very mild in his choice of words because he knows how Ned Nwoko behaves and he honestly didn't want to write the unprintable words used by Ned to describe Dr. Sandra Duru but he did to please his boss and to protect his job. Ned's aide has confirmed that he will never engage in any further blackmail, false publications, wicked scandals and social media attacks against Dr. Duru. He said in his words that Dr. Sandra is his sister. Dr. Duru has all the documented correspondences with Ned Nwoko's media aides, media consultants and ofcourse with notorious and manipulative Ned Nwoko.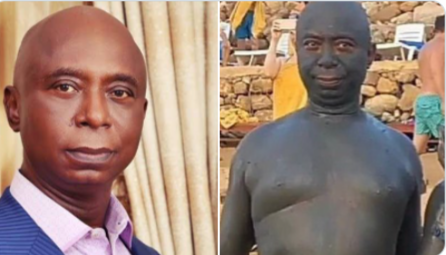 An Igbo proverb says: A child that dances to the sweet melody of 'surugede' does not know surugede is the song of the spirits. Dr. Sandra C. Duru has decided to take the bull by the horns and has issued a 30-day ultimatum to Ned Nwoko through her very competent and brilliant legal team to prove his claims or be charged to court for character defamation and other related charges. This will also serve as a deterrent to the like of Ned Munir Nwoko who are bent on dragging her name through the mud.
Will Ned Nwoko be able to prove his claims against Dr. Sandra C. Duru within 30 days or dance to the tune of her music? She insisted that Ned Nwoko and his agents must prove to the world that she is an ex-convict and was jailed for 5 years.
It has also been brought to our attention that Ned Nwoko's malaria campaign|program is a SCAM. Is Ned Nwoko another executive fraudster, a DISGUISED Hushpuppi?
Wahala dey sleep, iyanga go wake am up!
Watch out as the legal battle unfolds.